Years before the launch of jemcastor.com, I would post my birthday wishlist on my personal Facebook account in the hopes that my oh-so-awesome friends and family will make my tiny wishes come true. Funny enough, they are all so lazy to look into the wishlist and would buy just whatever. (I bet you this one will be the same aha!) But hey! I love gifts so I can't be picky. I'm fortunately enough to even receive gifts. Sometimes, it's more than what I put on my wishlist and of course, I am super grateful for it… just like when I received a surprise party and my very own DSLR 🙂
Why do I even create a birthday wishlist? Most often my yearly wishlist is for myself. I often go back to this wishlist and constantly check if I was able to reward myself throughout the year on my life accomplishments, may it be going to the gym 3 months in a row or getting a promotion. In other words, I used this even after my birthday.
Here's what I want for  2016: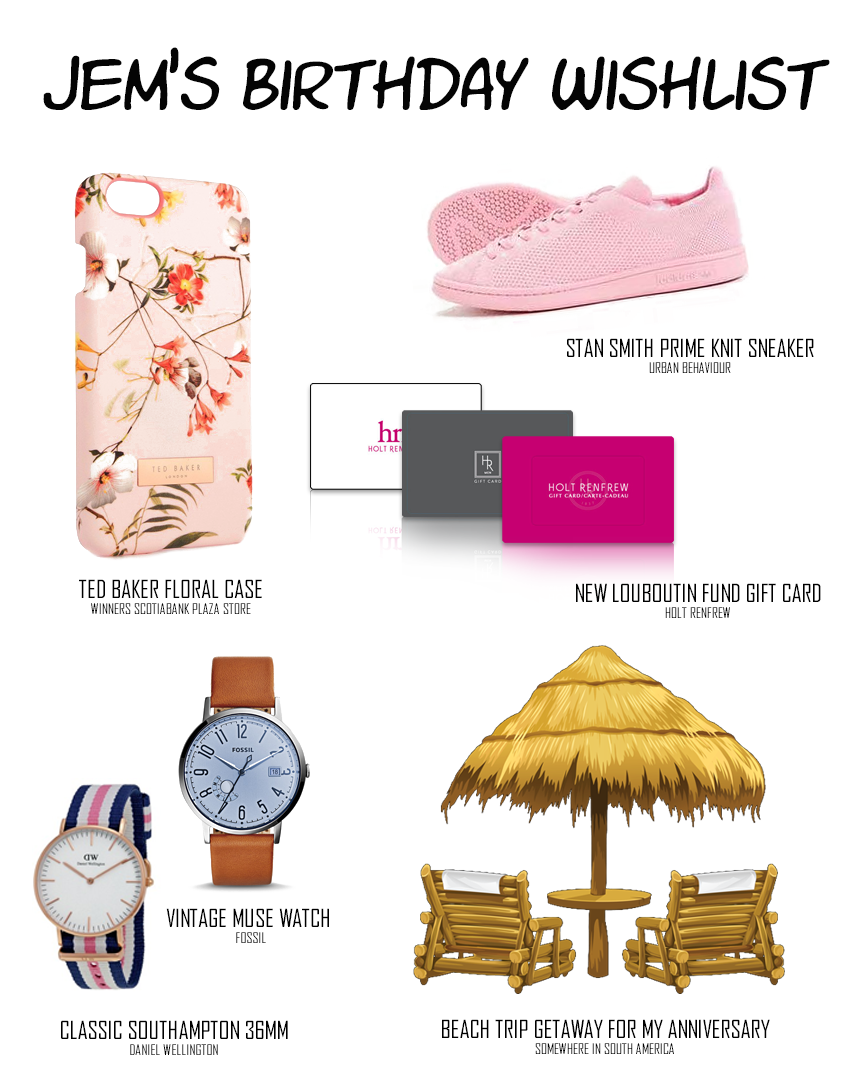 Ted Baker Floral iPhone6 case: after 3 generations of iPhones, my iPhone case addiction still stands. Lately, I've been loving most of Winners and Marshall's selection of iPhone cases and I have to stop myself in buying a case every day. Then for my floral addiction, I blame that 100% on my favourite snapchat floral crown filter.
Stan Smith Prime Knit Sneakers: my current sneaker addiction is slightly crazy. Who would have thought that I would start building my very own sneakers collection. Truthfully, I like to think that I'm heels-only girl (I got major leg muscles to prove it) but with age and the fact that I can't always wear heels anymore because of personal issues must have motivated me to start one. Sneakers are definitely my recent go-to shoes!
Holt Renfrew Gift card: Yes! I know but I've been wanting to have my own pair of Louboutins for a long time. I could have gotten this few years ago, however, my work hard, play hard principle always get in a way. This year I was able to achieve one of my career goals and based on my career-rewards chart I'm due to claim one.
Career-rewards chart is something I wrote down five years ago where each career milestone has a reward attached to it. It's more like my very own incentive.
Trendy Watch: Who doesn't love a classic Fossil watch or Daniel Wellington's classic southampton? *rolls eyes*
Beach Getaway: My last two adventures were all located in cities that require sightseeing and a lot of walking. This year, I've just been craving for a do-nothing vacation. Update: I couldn't wait for my birthday and purchase this gift on my own. Yay! happy birthday to me.
Bonus! Luxy Hair: This have made my wishlist year over year but I can't seem to get myself to buy it on my own (or get it either). Partly because I am scared I won't maintain the extensions. Hmmm, let's see.
On My Birthday…
Wishlist aside, I am grateful for a wonderful year! I've accomplished a lot and learned tons of important things that money can't buy. Yes, I do feel old from time-to-time but 95% of the time, I embrace the fact that I am getting wiser each year. Cheers to another beautiful year to come.
Follow me on Snapchat (username: xoxjemxo) and find out what I decided to do on my birthday! Yes, July babies.
Grab a vodka shot and take one with me.