It's been more than a year since I've decided to move to a beautiful island which we now call our second home. What comes with relocating to an area close to Toronto and our family being only three-hours direct flight away from us is constantly traveling back-and-forth. Special occasions such as weddings, milestone birthday and holidays. But not every time I can afford to take the quick direct flight to Toronto so sometimes I opt-in to a longer flight which turns the 3 hours to 8 hours.
With that in mind, I hate carrying any check-in luggage nor bulky carry-ons. Yup, that's not something you'd hear from me two years ago!
I learned to pack my carry-on lighter and use cute travel accessories that make it easy for me to pack things around yet still represents me. When I heard of Poppy and Peonies, I knew I had to get my hands on this product.
I honestly overused and make excuse on how to use their accessories every chance I get – even for packing couples items for a weekend getaway.
Are you tired of packing heavy and can't understand what's on your carry-on? Below are some tips that I've learned over time.
Tips on How To Travel Light
There many ways and tips to travel light and below are my top favourite tips.
Start Rolling Your Clothes:  This may sound time-consuming but it's such a big space saver to pick your outfits for the days you are traveling and start rolling it. You can toss it inside one of the cute travel cubes to maintain the rolls and space.
Put all your valuable items in Transparent Case: it's easier to track and see what are your valuable items – jewelry, phones, passport etc. if it's in the transparent case. I personally put mine there so I can immediately spot it when I open it or when it's being searched.
Makeup and Skin Care items go in one Bag: Remember carry-ons have limited liquids and airport restrictions, be sure to check those out before traveling. The best thing about putting them all together is it's easier for you to go through search scans if it's all in one place. Also, put all the liquids in Ziploc before putting inside the makeup bag.
Wear Everything Bulky: If you are going to a place where it's cold or require for you to wear boots, be sure to wear that on the place or hold it. If you put on your carry-on, it will sure take up a lot of space, and that's the last thing you want!
Bring Versatile or Neutral Items: I once traveled in Europe with very little clothing at the beginning of my blogging adventure and what saved me are my neutral outfits and pink accessories – floral and pink scarfs that made me look different. Try to bring items that you can mix and match such as white and black shirts, hair accessories and scarfs that make you look like you have the different outfits.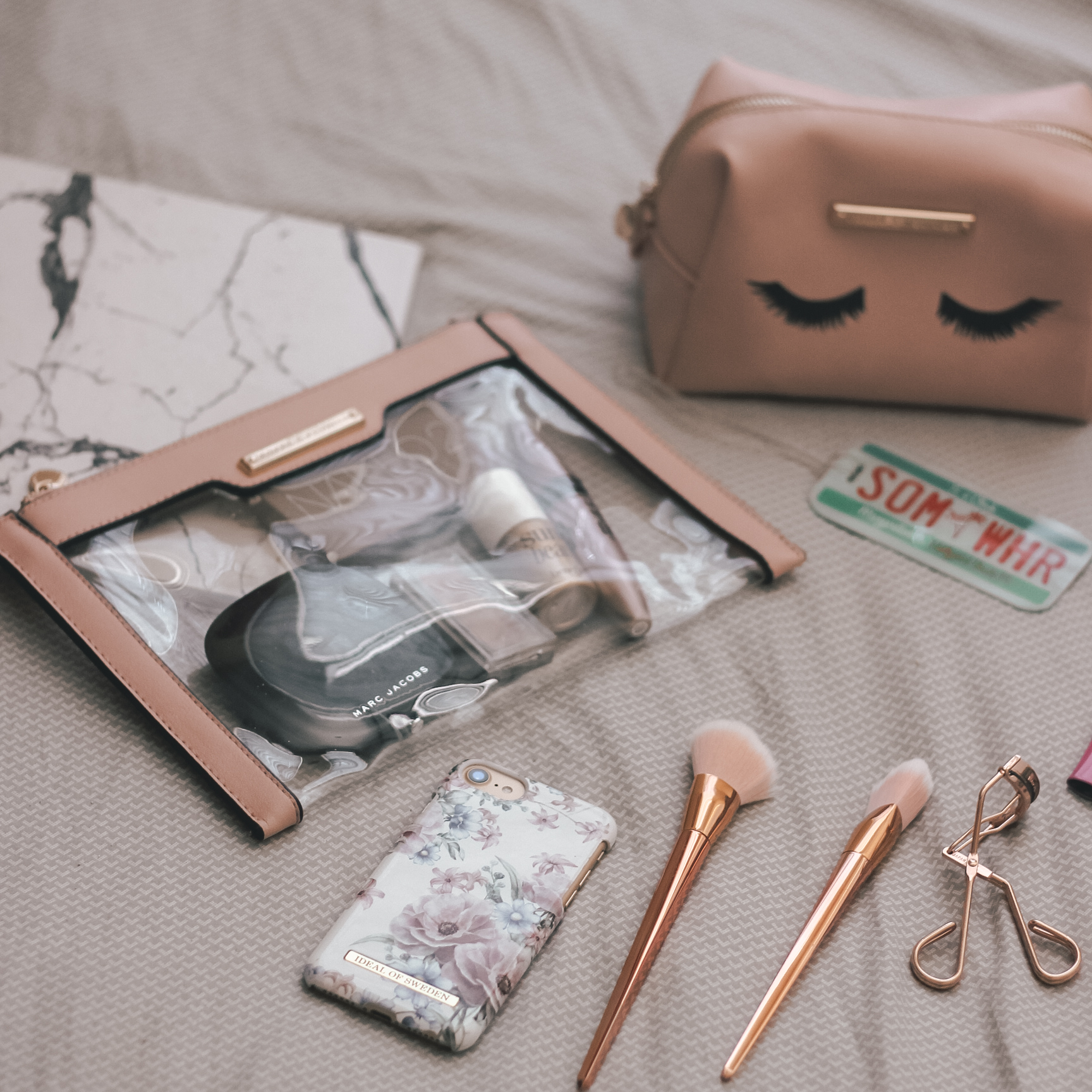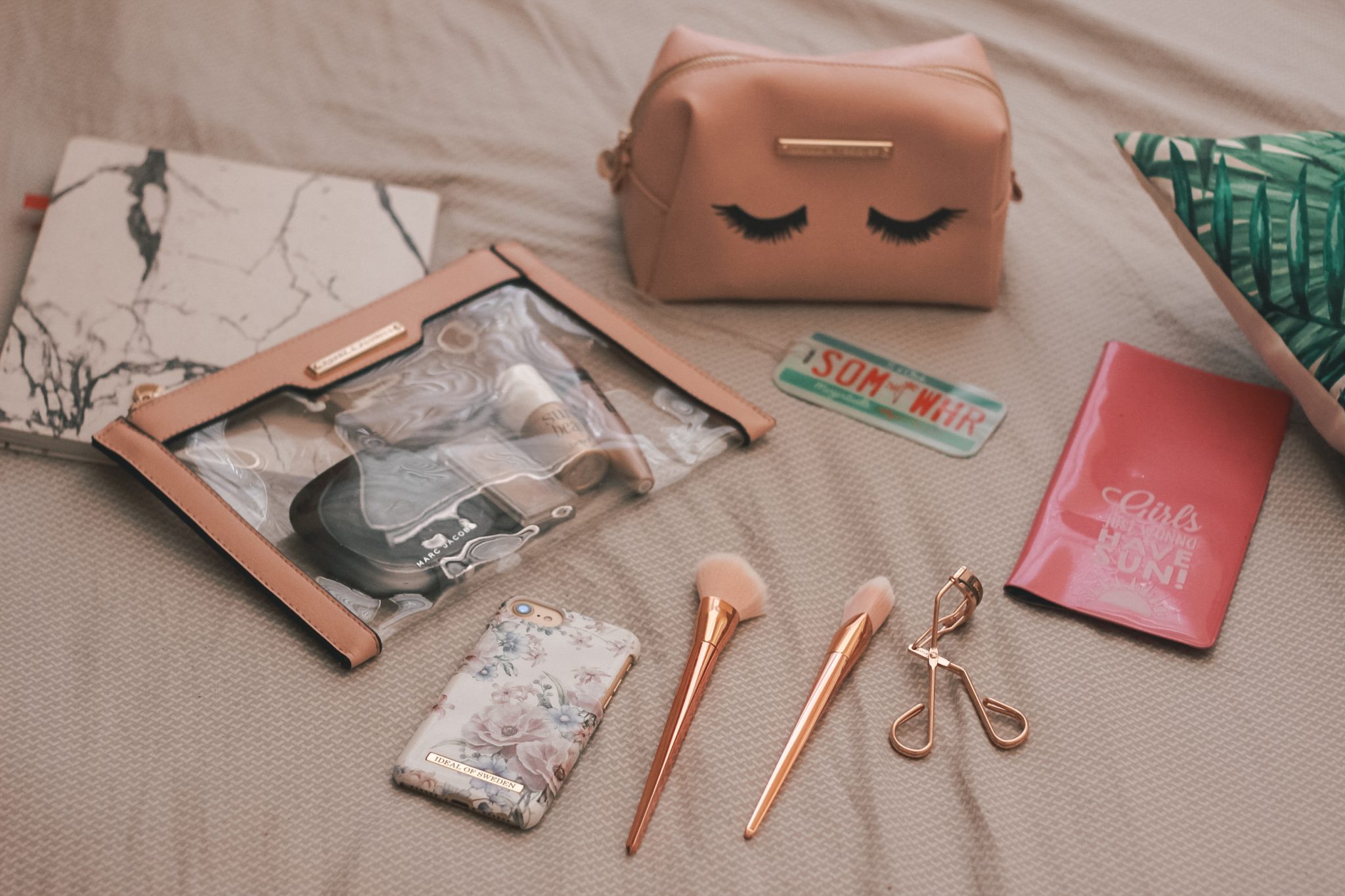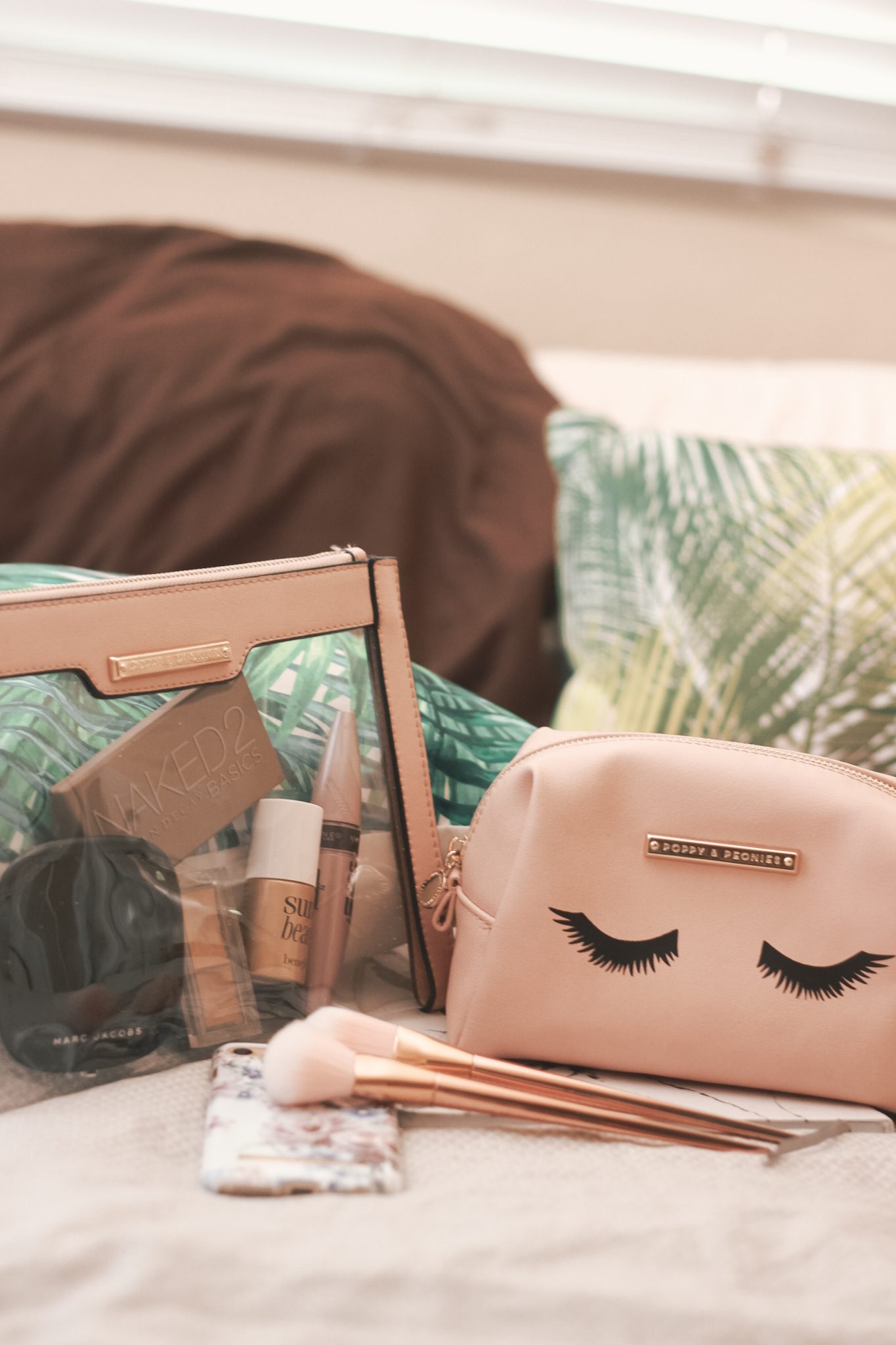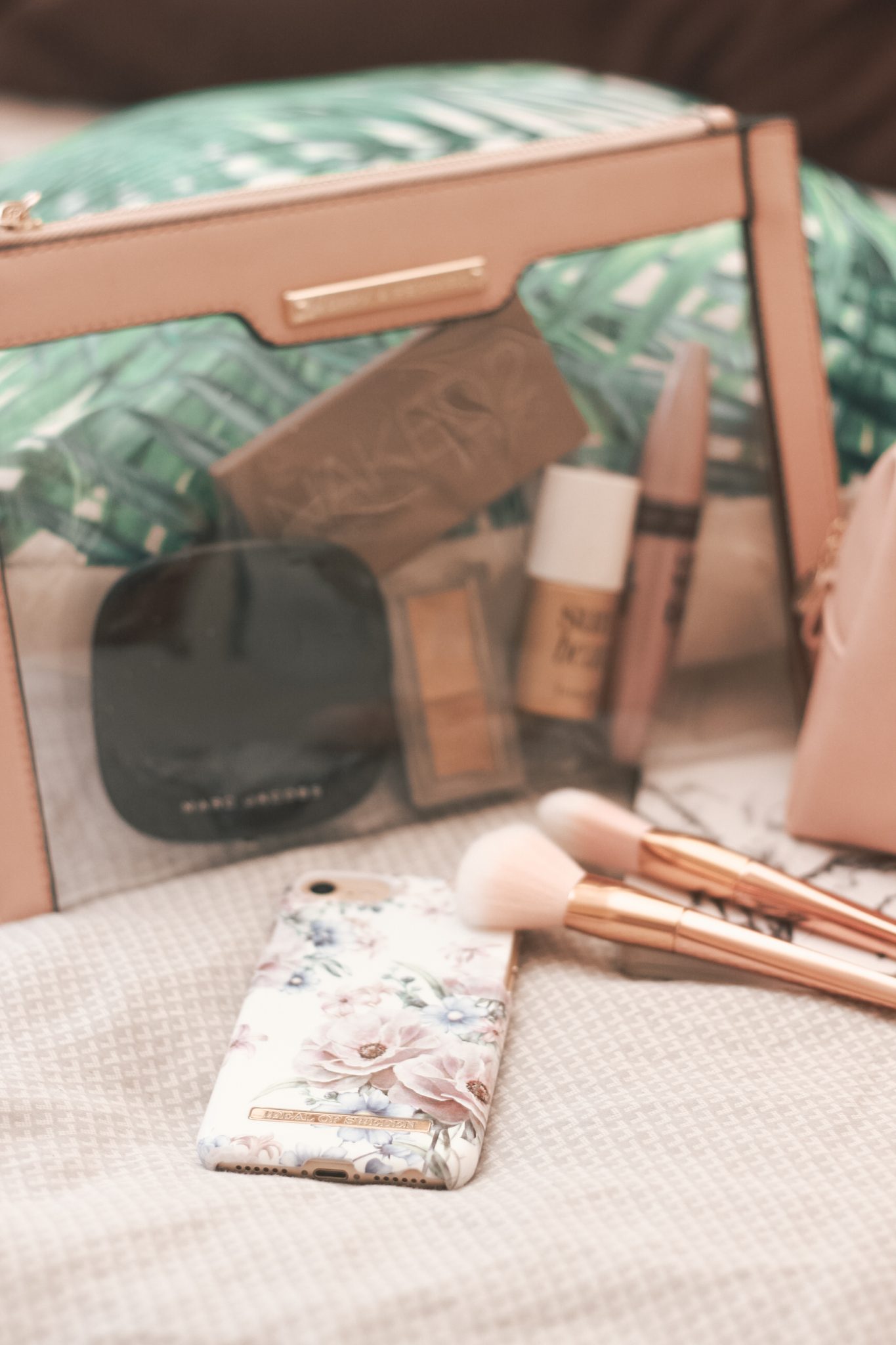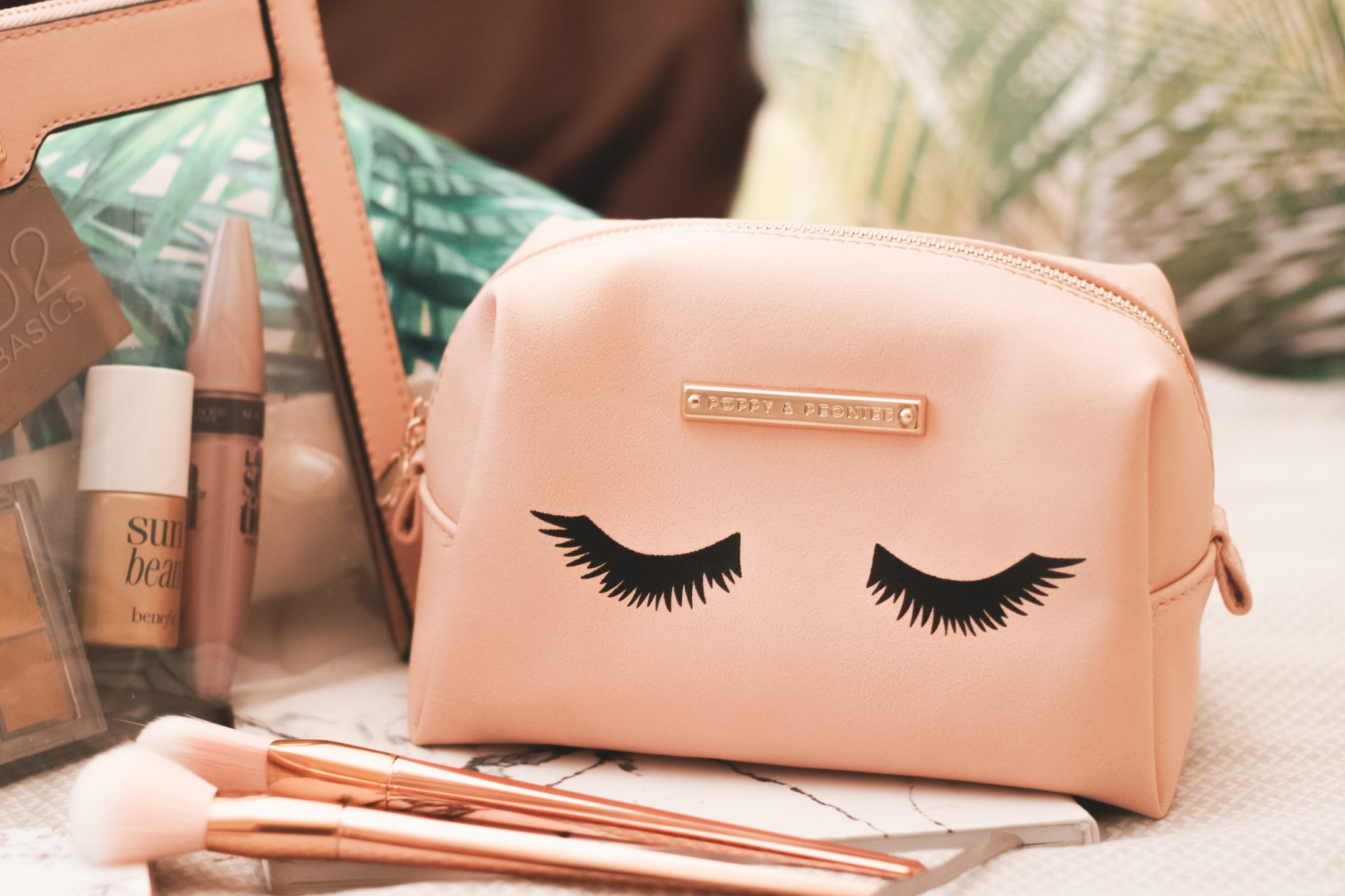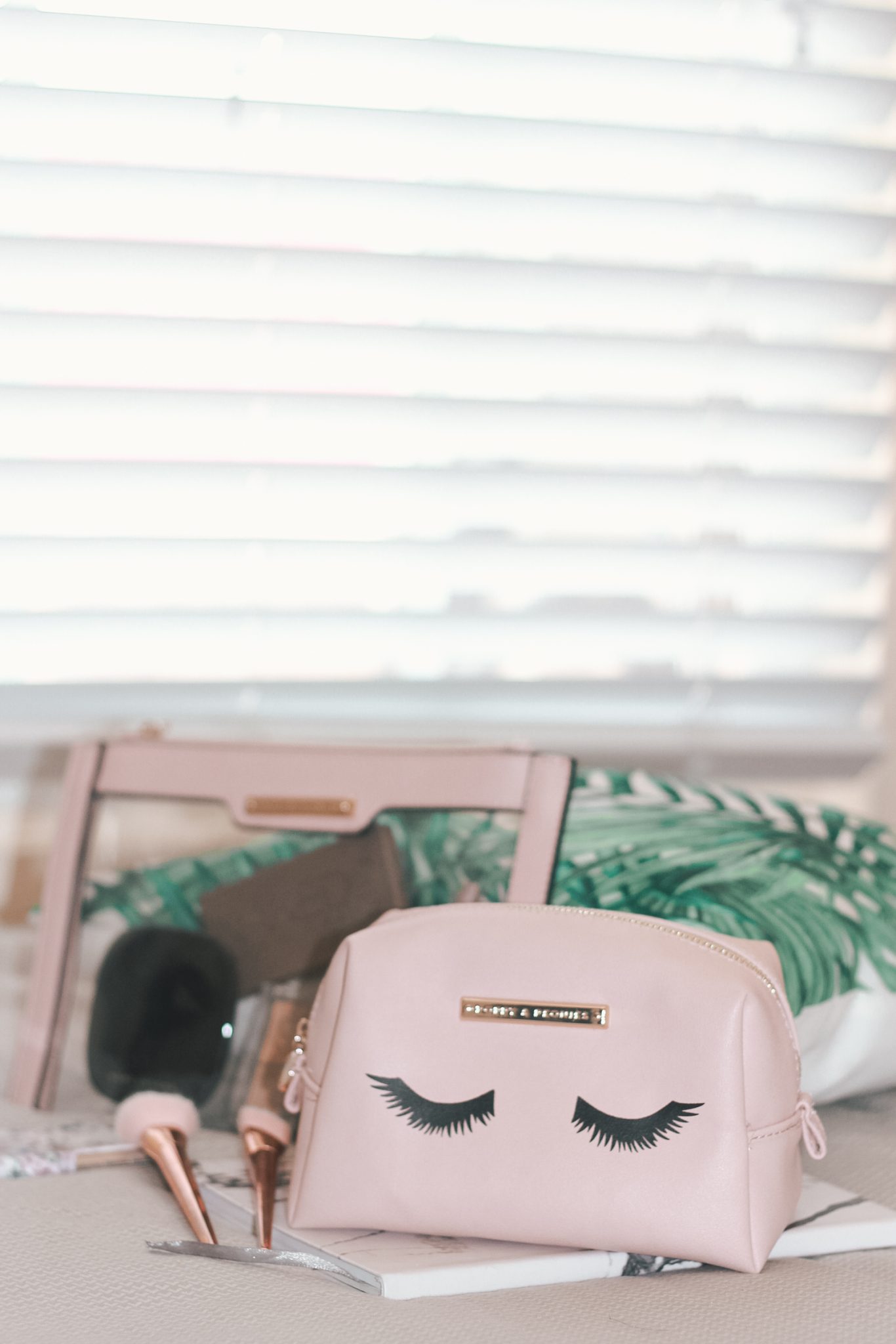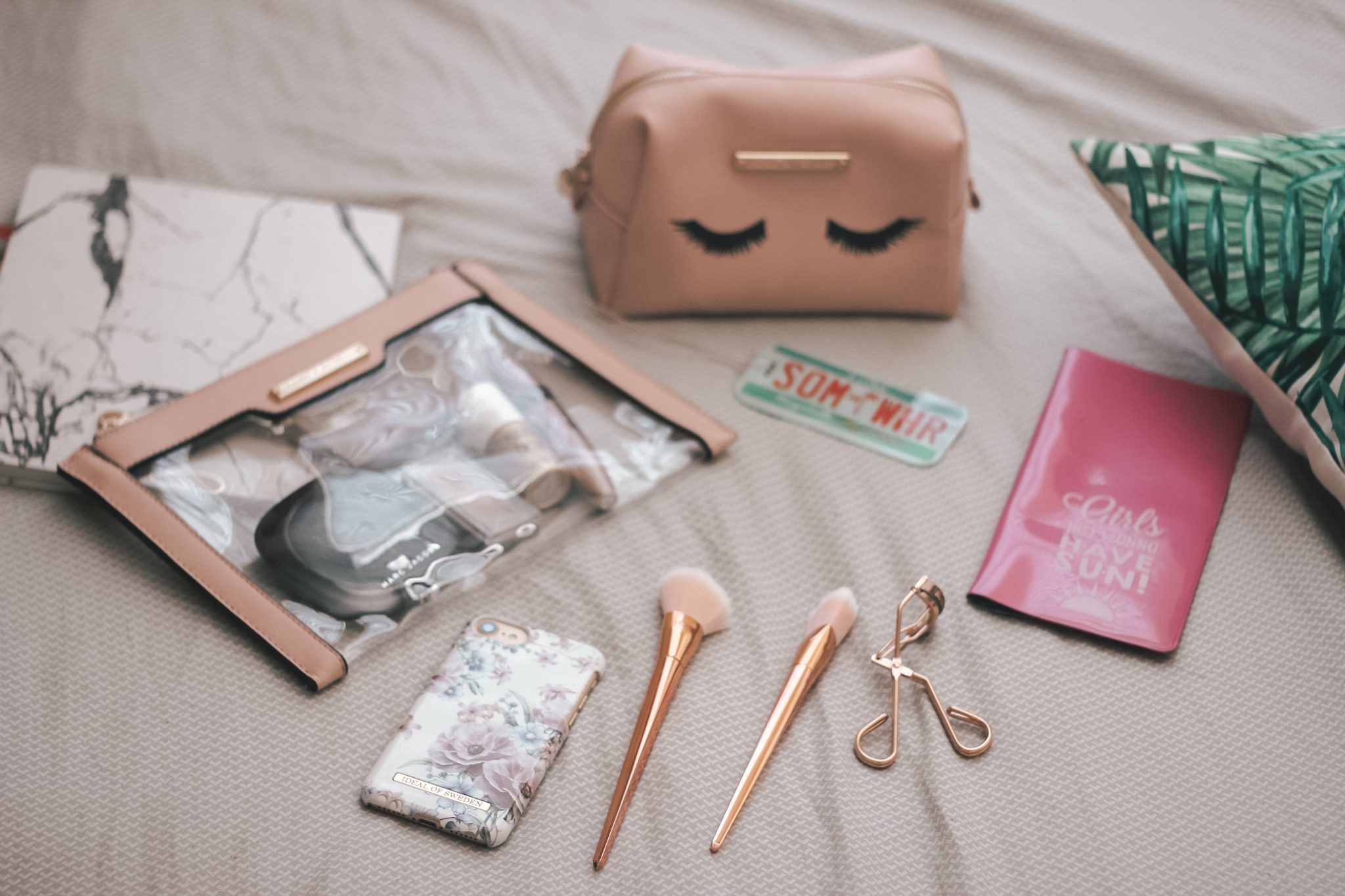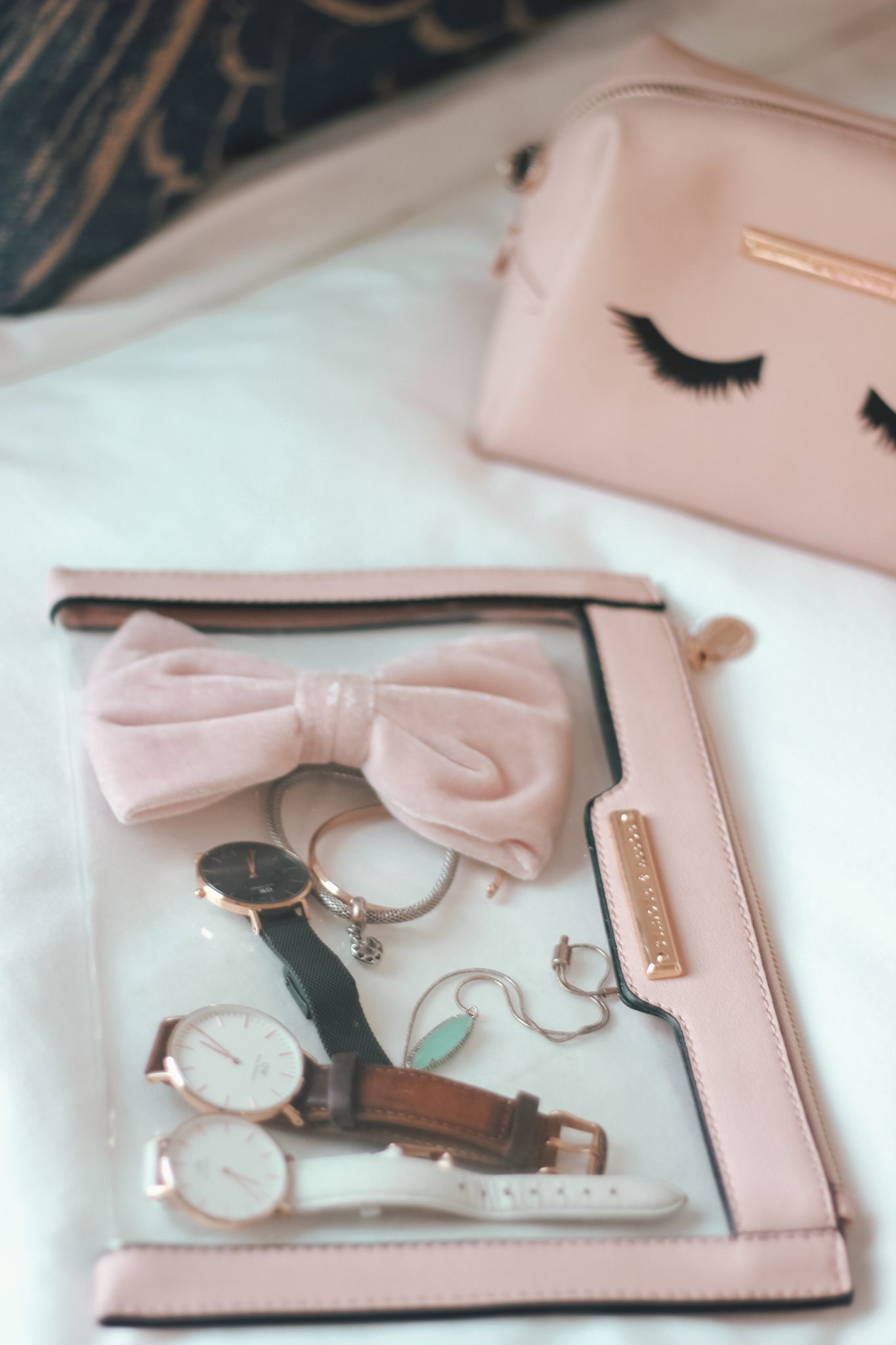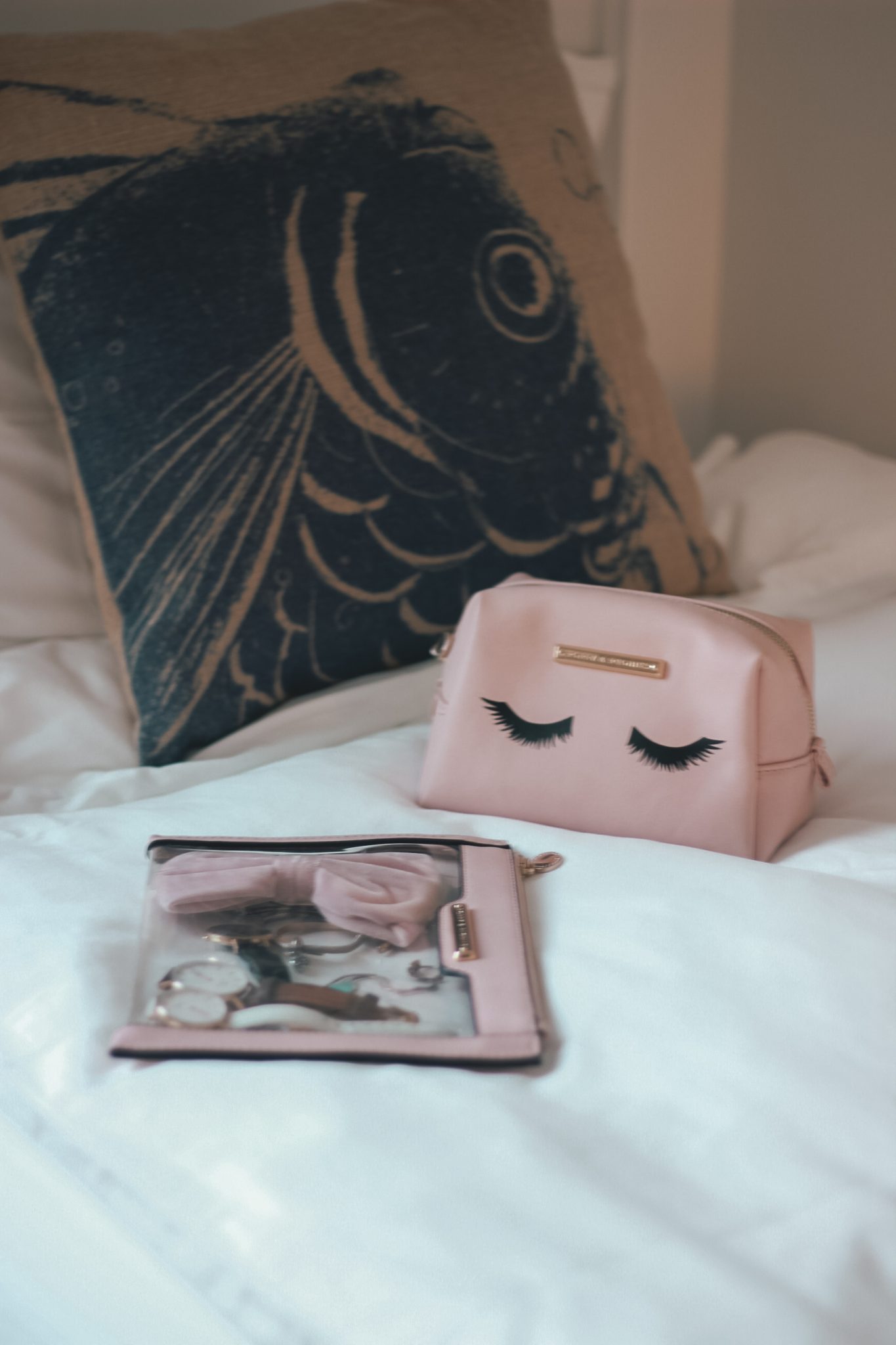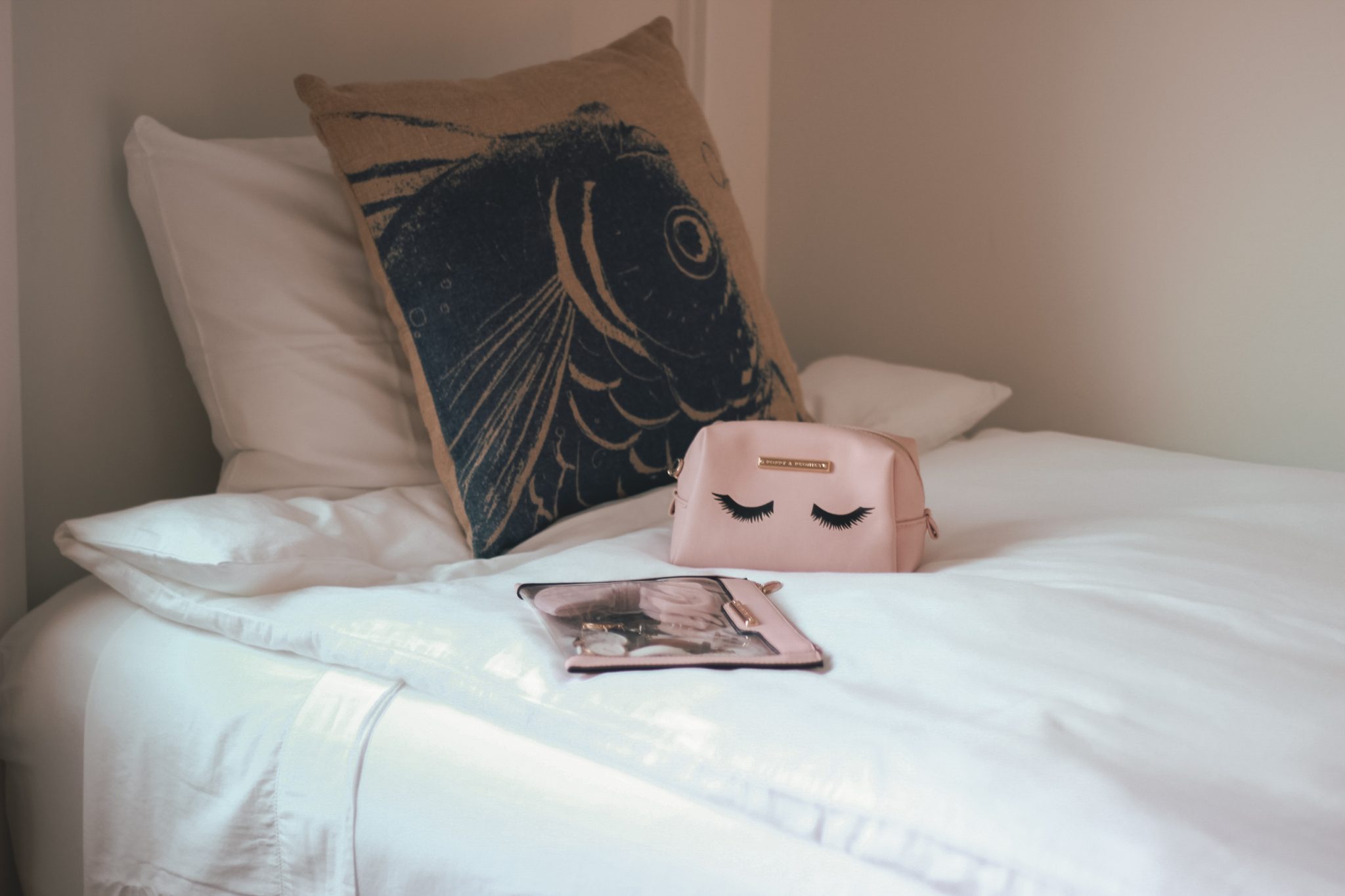 Some items below may now be discontinued but I recommend other collections from Poppy & Peonies: Beauty Bag Banana Leaf print $24 CAD / Let's Make-up Cosmetic Case $39 CAD / Beauty Bag Trio $45 CAD. Check out their website for more cute collections.
Benefits of Traveling Light
Based on my experience, there are tons of benefits of traveling light but one thing I want to stress out is the importance of saving time. It was easier for me to check-in and pass through the security without any hassle.
There are times that I was selected for a random check and because of my carry-on is clear, light and organized it was easier for the security member to clear my bag. If you can, definitely opt-in to a lighted travel.
I hope you found my tips helpful. If you ever use one of them or already do, feel free to share it on the comment box below.
XO,

Disclaimer: Although some items are sponsored by Poppy & Peonies, all opinions, comments, and feedback are 100% my own.