Hurricane season… ummm, what?!
What did I sign up for? One of the things that I'm still not used to since moving to the island is what they call hurricane season. Based on a calendar, the official hurricane season for the Atlantic Basin (the Atlantic Ocean, the Caribbean Sea, and the Gulf of Mexico) is from 1 June to 30 November*. But the peak of the season is normally in September. Do you remember Hurricane Irma around this time last year? Brutal. I remembered watching the news and live Snapchats during this time and my heart was breaking into pieces. Let alone scared to hell. It's definitely not something to take lightly.
For obvious reasons, during this time in the Cayman Islands, we see the most rain and downpour. The tourism drops at this time of year. Although we still get some odd tourists visiting the island and few random hot days in between the rain. When the weather is cloudy, gloomy and rainy, it can get difficult to go out and play tourists.
Lucky (or not so lucky) for me I've played tourist and hosted a few people on the island during rainy days. By now you've figured out that I don't like not having options and a schedule for my guests so I have a list of recommendations for you in case you might be bored of Netflix (what is wrong with you?) or eager to do something else besides sleeping.
To-Do#1: Hit the Cinema
Nothing beats buttery popcorn, comfy seats and watching the latest blockbuster in Camana Bay. No need for you to debate where to watch the movies because, in the Cayman Islands, we only have one theater.
Tip: Be sure to check out the movie times on Fandango first before driving there since sometimes the times are so far apart from each other. If you feel like splurging, especially if you are in vacation mode, buy the VIP tickets and you won't regret it. The comfy and pre-selected leather seats and massive leg room will definitely make up for the rain.
Snack Recommendation: The food choices in the theater is also pretty good especially those yummy curly fries and crunch bites chocolates.
To-Do#2: Host a Game Night
Grab some tortilla chips, salsa, and guacamole from Foster's or Kirk Market and invite your close friends over for some exciting game night! If you are not as lazy add some appetizer or charcuterie board in the mix. C'mon you know as much as I do that the best way to fight the gloomy, sluggish mood is through a boost of friendly competition with friends.
Tip: Monopoly Deal, Code Names and Cards Against Humanity are easy to play card games and perfect for most age groups.
To-Do #3: Cayman Style Cooking Session with Friends
Stay in with your partner, roommate or invite friends over and learn to cook Caribbean cuisine. Go to Caribbean Pot or Immaculate Bites for easy to make Caribbean recipes. Alternatively, you can sign up in group cooking classes at The National Trust by South Sound Dart Park or Bon Vivant at Camana Bay.
To-Do #4: Paint Your Heart Out
Grab a few girlfriends and sign up for an evening of Canvas and Cocktails at Art Nest Cayman. You might discover your inner creative side with a glass of wine or your fave cocktail with your best group of friends. If you aren't feeling the painting mood, you can choose to check out and enjoy the Cayman Island's art collection at the National Art Gallery. This is a great activity for singles, couples and even family.
Tip: Remember the gallery is only open on Monday through Saturday from 10 am to 5 pm.
To-Do #5: Take an Underwater Stroll
If there is a will, there is a way. Don't miss out on enjoying the ocean views just because it's raining. Obviously, this depends on how heavy the rain is. As long as there is no storm on the horizon, taking the Atlantis Submarine ride is the way to go. Lucky for you the rain doesn't affect the turtles, fishes and the rest of your underwater friends. If you are feeling more adventurous, opt-in for Submarine Night on Monday and Wednesday evening.
Tip: Try to book online to skip the lines. If you are local or residents, be sure to inquire for a discounted rate.
To-Do #6: Pamper Yourself
There is no better day to make an excuse to pamper yourself, especially on rainy days. Feeling extra lazy and don't want to get in your car or deal with anyone then my recommendation is to make an appointment with Perfectly Pampered or Anytime Wellness and treat yourself with professional spa services in the comfort of your own home. On the other hand, you can also indulge in Ritz-Carlton Spa or Westin Grand Cayman Spa and enjoy their massage packages paired with sauna, steam shower, and jacuzzi amenities. I'm sure just reading this got you feeling a little relaxed already.
Tip: Take advantage of spa package or monthly special offers to save a little.
To-Do #7: Go on a Distillery or Brewery Tour
This option is not the go-to for people visiting the island, which is unfortunate sometimes, but on rainy days this is the perfect way to keep yourself busy. Take a tour of Grand Cayman's only Rum Distillery and sample a wide variety of deliciously flavored rums this island is known for! In the mood for beer tasting rather than rum? Then head over to the newly opened 1981 Brewery for quality and local craft beer selections.
Tip: After your rum or beer tasting, check out the nearby Tortuga Rum Cake Factory for sampling or souvenirs.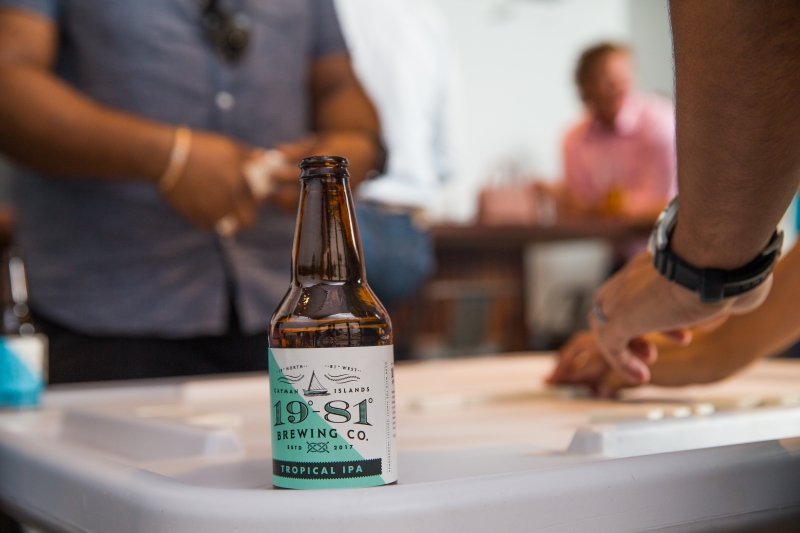 To-Do #8: Explore the Cayman Crystal Caves
Enjoy this nature tourist attraction on the north side of the island. The Cayman Crystal Caves comes with a knowledgeable tour guide who will take you on a 1.5-hour and three different caves group tour. You'll get to see the open-ceiling cave, stalactites and stalagmites and lush tropical forest scenery.
Tip: All the tours require pre-booking so be sure to check their website for more details or call (345) 949-2283 or  925-3001 prior to your arrival.
To-Do #9: Create Your Own Bar Hop Route
I'm not sure about you but I am a sucker for bar hopping. Whenever I'm visiting a new destination and if I am able to, this is definitely one of my top go-to things-to-do.  This is very easy to do on the island since restaurants and bars are so close to each other. Call your close friends, pick a designated driver and create your own bar hop route.
Tip: Create your bar hop route with four to five of my recommended bars to try – Royal Palms Beach Club, Craft Pub, Rackam's, Lonestar Bar & Grill, Bar Crudo, Cayman Cabana, Fidel's and King's Head.
To- Do #10: Visit the Pedro St. James
Go outside of the Seven Mile Beach area and head over to the southern side of Grand Cayman to visit the historical landmark of Pedro St. James. This reconstructed beautiful 1740 manor is the oldest structure in the Cayman Islands. This is what others call the "birthplace of democracy." Once you arrive at this breathtaking spot, you'll be transported back in time to the colorful past of Cayman.
Tip: Check out their website for promotions – sometimes they offer a 20% discount off on admission during a certain time period. It's open from 8:30am to 5pm and admission cost from $10-$15 Cayman dollars.
Hope you find this list helpful! Be sure to comment below or email me and let me know if you ended up doing one or any of my recommendations.
XO,

Disclaimer: This post is 100% my own opinions and thoughts. It is not sponsored, bias or a result of any collaboration. This is not intended to insult or discriminate against any individuals but to share my personal recommendations. 
*Researched from From National Hurricane Centre